Call for entries for Nuits Photographiques de Selma 2023
As part of the 4th edition of Nuits photographiques de Selma, from November 3 to 5, 2023.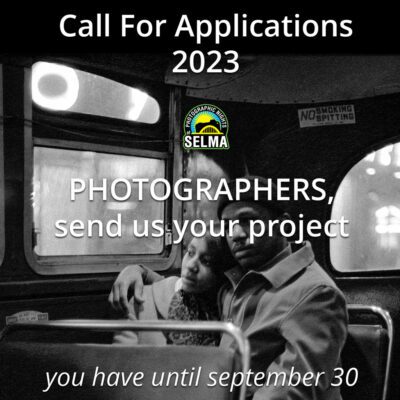 It will offer winners the opportunity to present and exhibit their work at the 4th edition, in Selma.
Application deadline: September 30th, 2023
Projects will be evaluated by a Franco-American selection committee on the basis of artistic and technical quality.
Selected projects will be announced on September 30, 2023.
The Photographic Nights of  Selma, was initiated by French photographer Stéphane Kossmann – founder of Les Nuits Photographiques de Pierrevert in France – and in partnership with Art Revive.
The event takes place over three days in the town of Selma, featuring exhibitions by international photographers, meetings, portfolio readings and a public screening.
The festival is also committed to developing exchanges with young artists in the process of professionalizing their work, notably through photographic walks and round-table discussions.
Every year, some twenty international photographers take part.
The Selma Photographic Nights Festival is a unique opportunity for professionals, amateurs and enthusiasts, not to mention the curious, to share their passion.
Apply to the call for projects
The Nuits Photographiques de Selma festival offers photographers the opportunity to apply for the 4th edition. The selected photographers will be included in the 2023 program, and will be able to exhibit their work in one of the festival's partner venues. A selection of their photographs will also be shown at the traditional public screening.
At the end of the festival, a Jury Prize is awarded. The winner will be invited to attend the Nuits Photographiques de Pierrevert (France) in July 2024.
Requirements
Candidates must submit a series of 10 – 30 photographs. The jury does not impose any theme, but will be attentive to the artistic and technical quality, as well as the coherence of the series.
Photographs must be submitted in jpg format (max. 2000 pixels for the wide edge) via the form below. Please group your photographs in a single ZIP file: "PNS-2023-FIRSTNAME-LASTNAME.zip".
The photographic series must be accompanied by a biography of the photographer, indicating whether the candidate has already taken part in one or more exhibitions (group and/or solo), and a short explanatory note on the proposed work.
The applicant undertakes to be present for the duration of the festival, from November 3 to 5, 2023.
Application form