Photo © Isabelle Serro, Grand Prize from the Jury 2020 edition
Photographic Nights of Selma Festival 
The Photographic Nights of Selma festival highlights photography as an art form and joins people from across the globe to share time together in a place with a rich history. Through the power of art, this festival is building bonds of friendship as it crosses a multitude of boundaries, and allows people to come together and better understand each other. The world is invited to enjoy this new, beautiful bridge, in Selma, Alabama.
Isabelle Serro – Guest of Honor 2021

& Grand Prize from the Jury – 2020 Edition
Reporter photographer based in France, Isabelle SERRO is a member of the Collectif Divergence Images. She relies on 15 years of professional experience in so-called sensitive geographical locations around the world. It is most often outside her comfort zone that she finds the depth of her work with a humanistic eye. Her quick adaptability and curiosity make her seek to highlight the positive and enriching aspects of sometimes the most complex situations. This approach took her to the Amazon in 2009 to the Yanomami Indians with whom she lived for several months. On her return, she began a collaboration with the SIPA agency and produced various ethnic, social and current affairs reports, always with the same quest for discovery and sharing.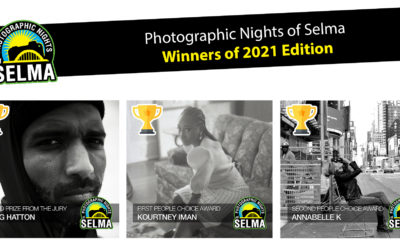 We are proud to announce the winners of the 2021 edition of Selma Photographic NightsThe jury declared Greg Hatton the winner while the public awarded 2 prizes with one vote difference between Kourtney Iman and Annabelle K !Grand Prize from the Jury: Greg HattonFirst...
read more